Low temperature oven for catering & Horeca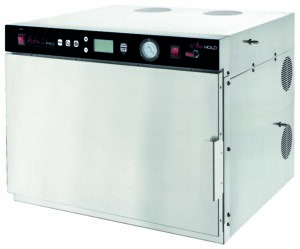 HotmixPRO revolutionises the world of cooking/maintaining with static heating, with a range of two appliances with unique and extraordinary performances.
Equipped with special vacuum pumps, Extra Hold transforms your recipes into inimitable creations, with strong flavours and amazing textures. Extra Hold appliances, thanks to sophisticated temperature and humidity control and management systems, together with the ability to work in vacuum conditions, allow to: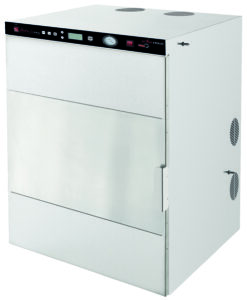 Bake/preserve in a temperature range (static heating) from +24°C to +120°C.
Cook at very low temperature (static heating) and controlled humidity that can be set at will without oxidation, with an important improvement of the quality of the result
Impregnating/marinating in vacuum conditions is a technique that allows amazing results, because during the elimination of the air inside the chamber, Extra Hold will also eliminate some of the air contained in the product inside the appliance, allowing a liquid to impregnate/marinate food
Control and manage the relative temperature and humidity, with degree-by-degree control
Keep food at service temperature, setting the desired humidity level, without any changes texture and color in absolute safety
Recover liquids "extracted" from foods, rich in flavors and scents, for innovative uses
Save money by cooking at very low temperatures during the night, while also eliminating expensive vacuum plastic bags
Suck aromatic liquids from the outside while Extra Hold is working
Store your recipes and their parameters
Continuous and programmable working
Perfect for catering services thanks to easy transportability and excellent thermal insulation
Discover the full range of HotmixPRO professional multifunction food processor, the made-in-Italy guarantee of accessories for the kitchen, restaurant, and food industry.
---
Take a look at the HotmixPRO Range!
HotmixPRO Easy:
from 24°C to 130°C, painted steel body, up to 10'050 rpm. Your entry-level companion.
HotmixPRO Gastro:
from 24°C to 190°C, stainless steel body, up to 12'500 rpm, recipe memory and more!
HotmixPRO Gastro X:
from 24°C to 190°C, up to 16'000 rpm, up to 12 hours of work… powerful and tireless!
HotmixPRO Twin:
from 24°C to 190°C, up to 12'500 rpm, and double capacity, with its two independent bowls!
HotmixPRO Gastro XL:
from 24°C to 190°C, up to 16'000 rpm, up to 12 hours of work… and improved 3-lts capacity!
HotmixPRO 5 STARS:
from 24°C to 190°C, stainless steel body, and 5 lts capacity, ideal for the biggest restaurants!
HotmixPRO Breeze:
from -24°C to room temperature, it's the first thermal mixer specialized in chilling!
HotmixPRO Combi:
on one side, it's like a Gastro; on the other, like a Breeze – versatile and performant!
HotmixPRO Creative:
from -24°C to +190°C, it's the first appliance of its category able to chill and cook in the same bowl!
HotmixPRO Master
from 24°C to 190°C, 16'000 rpm, 12 hours of continuous work… and the incredible ability to make vacuum in its bowl while working!
HotmixPRO Smoke
A professional cold smoker, able to run the smoke through liquids, and compatible with every other HotmixPRO unit.
HotmixPRO Dry
Entirely in stainless steel, with 2 separate areas, recipes, and perfect temperature control: this new tabletop dehydrator will really surprise you!
HotmixPRO Master Breeze:
quickly cool down to -24°C while creating vacuum into the bowl
HotmixPRO Giaz & Easy Giaz:
make up to 10 portions of instant ice cream in 60 seconds, without any waste and with full control over the results